Status: Currently paused due to COVID.
Leads: (From 2019) Noor Adil, Ela Bandari, Leah Fischer, Jacqueline Nash, Jon Nakane, David Ng (host), Katie Taher, Garance Thery, Kim Werker,

Collaborators (past and present): GEERing Up! (UBC Engineering), Cozy Classics, Maker Media, Emily Smith, UBC Engineering Physics, UBC Michael Smith Laboratories
Time:
9:30am to 3:30pm
Dates:
n/a
Age Level:
Girls entering grades 7 to 8 in the fall.
Running Late? Please call the lab at 604-822-2809

Max Participants:
24 max
Meeting Spot:
AMBL lab (Rm 105) within the Michael Smith Building (
directions
)
Cost: Free
The Maker Camp is currently paused due to COVID.
Maker Camp 2014 | 2015 | 2016 | 2017 | 2018 | 2019
At this point in time, the Maker Camp programming is paused due to COVID. Depending on the situation, we do hope that we can offer it again during the summer of 2022.

Space is free and available for 24 girls, who are about to enter Grades 7 to 8 in the fall. Program runs daily from 9:30am to 3:30pm, with a 30 minute lunch break in the middle. Transportation to and from UBC, as well as lunch/snacks is not provided. Since this is a free workshop, please ensure that your child can attend the whole camp.
Note that permissions will also be required so that we can document and publicize some of the activities, as well as participate in the MakerCamp program.
PAST 2019 SCHEDULE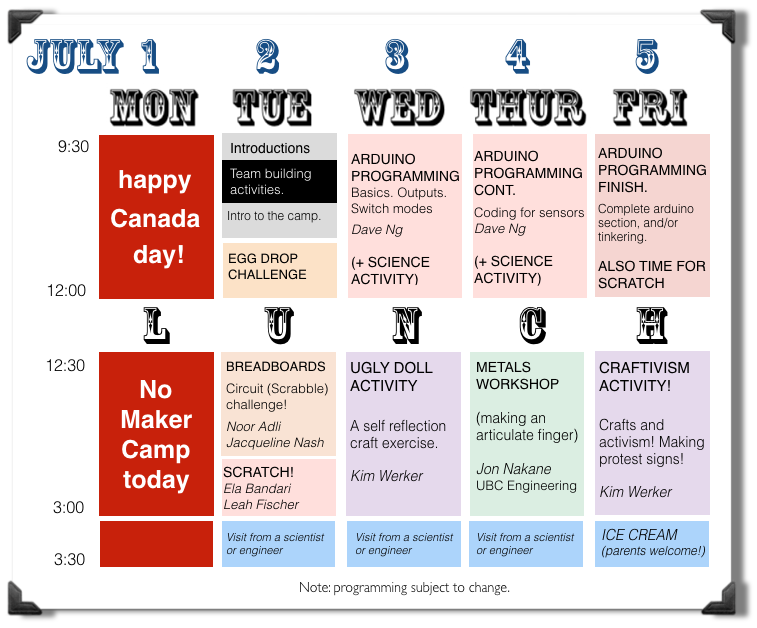 1. Basic programming logic:
Girls will receive a brief introduction to scratch, with a mind to eventually use it to produce media/programming that showcases an element of activism.
2. Arduino Programming:
Girls will receive and learn how to code using the arduino chip, such that they can create code for electronic devices. In our case, this will include coding activities that allow programming of outputs in a sequential manner, coding that reacts to sensory input, and coding that explores the movement of motors or servos.
3. Craftivism:
Kim Werker and the lab is looking to do an activity that explores craftivism (using crafts for activism or advocacy). This will likely involve something revolved around gender equity and/or climate change.
4. Breadboarding and circuit building:
Led by our GeeringUP crew, we will have a session dedicated to the girls familiarizing themselves with building circuits. This sets up the ability to make electronic devices which will be powered by code downloaded onto the Arduino motherboard.
5. Metal Workshop:
This activity led by Jon Nakane will get the girls to familiarize themselves with tools, and especially tools that are used to cut metal frameworks. This is often the scenario if one is building a robot for instance! In any event, hopefully girls can apply some of these techniques to even shaping pieces of cardboard which can be combined with their knowledge of the arduino to create new devices!
6. Science Activities!
The camp will have a number of science-y type activities, if time permits. This might include exercises on microscopy and/or detection of sub-atomic particles.
7. Ugly Doll creation!
Kim Werker will guide the girls to deliberately make something "not pretty." With this, she will guide them through discussions around how mistakes, failures and the aesthetically challenged are actually important elements of design.
8. Speaker Stories:
We will have a number of short visits from women scientists, engineers, and writer creators who can share what they do, and talk a bit about their careers in general.



* If you have a boy that is interested in similar programming, we highly encourage you to explore registration into one of our collaborator's workshops (http://www.geeringup.apsc.ubc.ca/). As well, please be aware that we also have an inclusive view of the word "girl" and we welcome trans, genderqueer, and non-binary folks interested in the workshop.