Several times a year, AMBL hosts full day science education conferences. Here, we utilize our teaching facility to its fullest capacity – including keynote sessions for up to 90 participants, and usually a myriad of hands-on activities.
– – –
TEACHER CONFERENCES | STUDENT CONFERENCES
---
UPCOMING STUDENT CONFERENCES
MOST EXCEPTIONAL ESCAPADES IN SCIENCE 2013
(Download the pdf of our conference poster by clicking here)
FULL CONFERENCE DETAILS CAN BE FOUND BY CLICKING HERE.
FRIDAY MARCH 8TH, 2013
The Michael Smith Laboratories are pleased to announce a one day Scientific Conference designed for high school students (Grades 8 to 12). This event held on March 8th, 2013 will showcase a variety of SCIENCE themed pursuits. Students will engage in hands-on activities and interact with some of the most prominent scientists in the world.
Attending this event is FREE, but registration is required.
Click here for online registration!
http://www.bioteach.ubc.ca/highschool-conference-2013-register/
9am – 3:30pm, Friday March 8th, 2013
Michael Smith Laboratories
2185 East Mall, UBC
---
UPCOMING TEACHER CONFERENCES
Gel nails first appeared in the U.S. in the early 1980s, Nail care
but were met with limited success. At the time, Nail gel polish
the manufacturers of gel lights and the gel itself had not joined forces, gel nail polish color set
not yet recognizing the need to precisely match the intensity of the light to the photoinitiators in the gel.Best gel nail polish
Nail techs and clients soon found out that ­using the wrong light or applying too much gel caused a burning sensation on the client's fingertips.luxury nail gel
Additionally, education on gel application was limited, leaving nail techs in the dark about the product, and home-use ­systems were introduced around the same time, damaging the reputation of salon-use systems by ­association.Nail care
Nail gel
MICHAEL SMITH LABORATORIES TEACHER CONFERENCE
(Download the pdf of our conference poster by clicking here)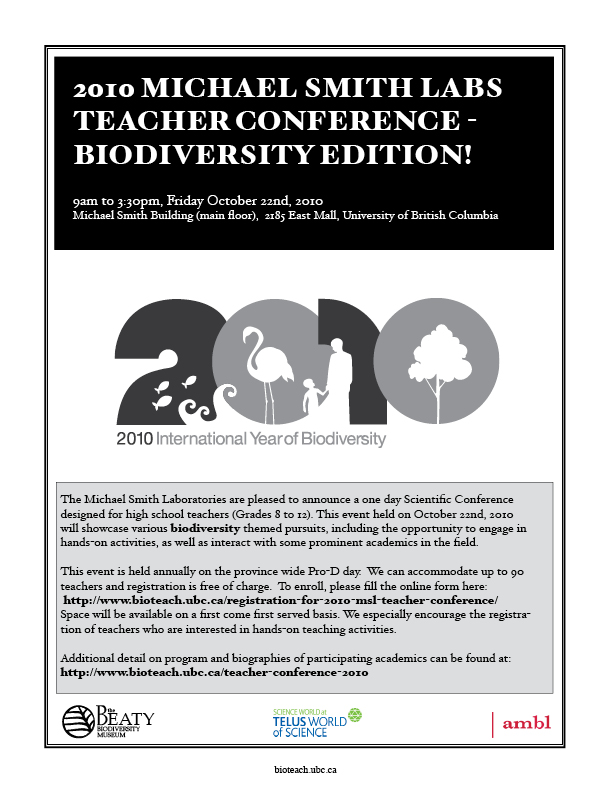 FULL CONFERENCE DETAILS CAN BE FOUND BY CLICKING HERE.
FRIDAY OCTOBER 22ND, 2010
"BIODIVERSITY EDITION!"
We are pleased to be hosting our 2010 Teacher Conference on Friday October 22nd, 2010. We have a great program that includes a tours of the brand new Beaty Biodiversity museum at UBC, tips & tricks for tackling Science literacy and hands-on activities for you to take home to your classroom. We've designed a day that will have wide appeal for Science teachers and our goal is to share, inspire, and motivate.
Attending this event is FREE, but registration is required.
Click here for online registration!
http://www.bioteach.ubc.ca/registration-for-2010-msl-teacher-conference/
9am – 3pm, Friday October 22nd, 2010
Michael Smith Laboratories
2185 East Mall, UBC