Or as Dave S. (creator of this great idea) might say, can we call it BFAC2008?
Anyway, for those of you who have an annual tradition of putting together a gingerbread house, why not do it this year with a sustainability twist?
That's right! Terry's own "Bake for a Change" is a contest where you, as the submission details say, apply sustainable building design practices to a gingerbread house.
Anyway, those details in full are presented here, and you can see last year's entries by checking through this Flickr group. If you do check the flickr page out (and this highly recommended since it's really cool), then you'll note that we're happy to see all sorts of entries, from the fun to the fancy. Seriously, winning really isn't the point – it's more about creative (and in this case, edible) ways to think about sustainable practices.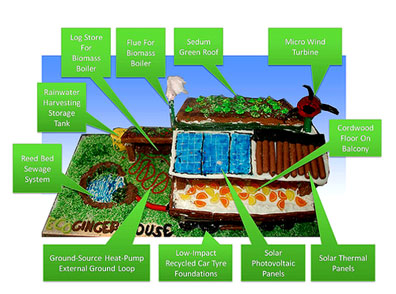 Mind you, as you can see from our last year's winner (above), things can get pretty elaborate. Anyway, game on! Sounds like this year, we may even have some architecture schools on board, as well as some sustainability related highschool and university classes.