The Fourth Anniversary Edition of our "MOST EXCEPTIONAL ESCAPADES IN SCIENCE" High School Student Conference will be held on Thursday April 14th, 2011. Attending this event is FREE, but registration is required.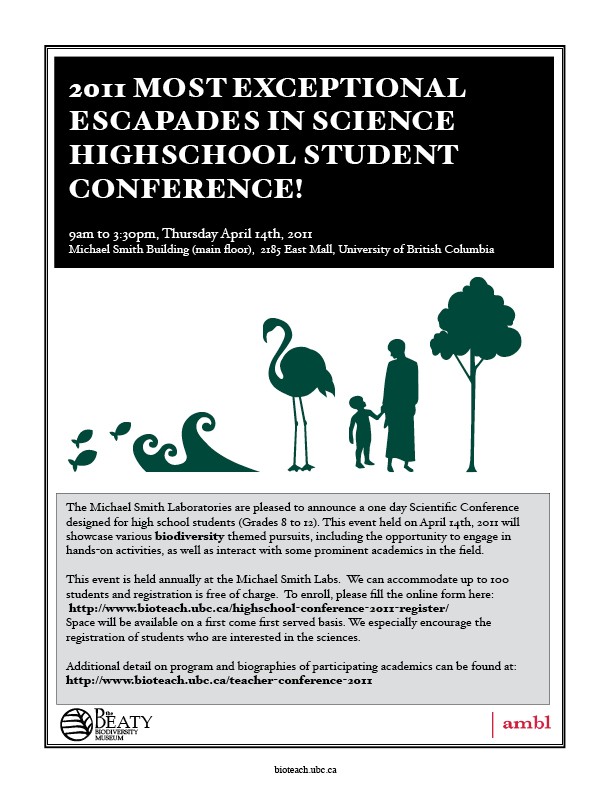 UPDATE (Mar 1st): We're full, with over 100+ students registered! Online registration is now closed, please email Dr. Fox at: joanne@msl.ubc.ca if you would like to be added to the waiting list. Conference sign-in opens at 8:30am, with the program starting at 9:15am. See below for full schedule details.
This event showcases various scientific pursuits, including the opportunity for you to engage in hands-on activities, as well as interact with some of the most prominent scientists in the world. This year's program is looking awesome! We're going to explore the science behind BIODIVERSITY themed pursuits.
You can download our 2011 Escapades Poster, if you want!
ESCAPADES IN SCIENCE – The HANDS-ON ACTIVITIES for the 2010 Conference.
I. DNA, GENOMES, + MORE
(Dr. Joanne Fox)
In this activity you'll step into a real reasearch laboratory at UBC and isolate your own DNA!
II. THE PHYLOMON GAME
(Dr. David Ng)
Do you kind of wish Pokemon cards had REAL creatures not FAKE creatures? Here's your chance to contribute to our lab's latest Science project, http://phylomon.org/
III. BEATY BIODIVERSITY MUSEUM TOURS
(Bep Schipeers)
In this activity, students will get a chance to tour the brand new Beaty Biodiversity Museum located next door to the Michael Smith Laboratories. Graduate students and post-doctoral fellows will share their stories about research and what it's like to be a scientist who studies biodiversity & evolution.
Speaker Biographies:
Jenny McCune is a PhD student in the botany department at UBC.  She earned her BSc in Biological Science at the University of Guelph, MSc in Ethnobotany at the University of Kent, Canterbury, and has worked as a plant ecologist in Florida, Oregon, California and Maryland.

Dr. Rob DeWreede. Rob's research has dealt with both theoretical and practical aspects of the ecology of marine macro-algae, in both temperate and tropical habitats. His work has taken him to Hawaii, the Philippines and around the world where he has studied the ecology and taxonomy of Sargassum, and helped in establishing pilot farms for Eucheuma (a red seaweed and carrageenan producer). Closer to home, here In British Columbia, his research has focused on the structure and demography of marine algal populations, and of the biomechanical properties of selected species.
Dr. David Ng is Director of the Advanced Molecular Biology Laboratory, the educational arm of the Michael Smith Labs. Dave is a geneticist, science advocate, and occasional writer. Dave claims that his Dad beat up Bruce Lee once.
Dr. Joanne Fox is an Instructor at UBC.  She's the director of a new first-year program that involves debates, discussions and other activities to get students thinking and talking about what science is, how it is done, and how it impacts their daily lives. She's got a really fun creative job that combines education, outreach and science.  She lives with her family, which includes their singing dog, Penney, in a historic fishing village just outside of Vancouver.
Details:
Thursday April 14th, 2011
9:00am – 3:30pm
Michael Smith Laboratories, UBC
2185 East Mall, Vancouver, BC
maps, bus, parking,
For more information, please contact:
Dr. Joanne Fox
joanne@msl.ubc.ca
604-827-3911
Schedule:
8:30 am STUDENT Registration
9:15 AM WELCOME FROM Dr. Joanne Fox & Dr. David Ng
9:30 – 10:00 Dr. Rob DeWreede
10:00 – 10:30 Jenny McCune, PhD Student
10:30 – 11:30 EXCEPTIONAL ESCAPADE IN SCIENCE
Rotation #1 – DNA, Genomes, + More
11:30 – 12:30 EXCEPTIONAL ESCAPADE IN SCIENCE
Rotation #2 – Phylomon Game
12:30 – 1:30 LUNCH (on your own)
1:30 – 2:30 EXCEPTIONAL ESCAPADE IN SCIENCE
Rotation #3 – Beaty Biodiversity Museum Tours
2:30 – 3:30 NETWORKING GAME – Draw prizes at 3:15pm
3:30PM END
If you're interested, you can check out last year's program here.