The Michael Smith Laboratories and the UBC Celebrate Research Week were pleased to announce a one day Scientific Conference designed for high school students (Grades 8 to 12).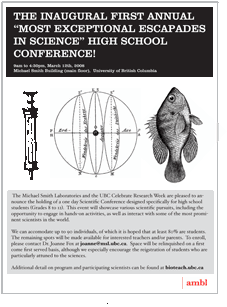 This event showcased various scientific pursuits, including the opportunity to engage in hands-on activities, as well as interact with some of the most prominent scientists in the world.
We accommodated close to 100 individuals, of which at least 80% were high school students. The remaining spots comprised of interested teachers and/or parents. To enroll, please contact Dr. Joanne Fox at joanne@msl.ubc.ca with your name, email, school, and what grade you're in. Space will be available on a first come first served basis. We especially encourage the registration of students who are particularly attuned to the sciences.
Highlights from Presentations:
Dr. Phil Hieter offers a welcome to the Michael Smith Laboratories.
Dr. Jane Roskams gives some career advice and talks about what it's like to be a neuroscientist.
Dr. Brett Finlay talks about his adventures of the "turd" kind.
E. coli Infection Strategy
Watch this animation to see the molecular tricks that an infectious strain of Escherichia coli uses to infect your gut.
2 minutes 52 seconds
Play: MOV / WMV
Intracellular Infection by Salmonella
In this animation, you can see how one S. typhimurium invades an epithelial cell of the intestinal tract, survives the intracellular defense mechanisms of the host cell, and multiplies.
1 minute 18 seconds
Play: MOV / WMV
Dr. Joanne Fox demonstrates how you can access the human genome using your own computer.
Dr. Daniel Pauly's slide show about the decline of fish populations world wide.
Speaker Biographies:
Dr. Jane Roskams does research on the brain cells that are responsible for how we smell. She is an expert in how these brain cells grow, change, and die. "Science gives us a chance really boldly go where no man has ever been before, and the brain is the last great frontier of all. As a neuroscientist, I get to study the genes, molecules and cells that lie at the core of our human nature, and that shape who we are as people. Even as I read, my own brain is physically and chemically changing to accommodate that new knowledge, and that is amazing."
Dr. Daniel Pauly is famous for his work in studying human impacts on global fisheries. "What would you have become, if not a scientist? Another scientist. Seriously. This is the best."
Dr. Brett Finlay is one of the world's foremost experts on the molecular understanding of the ways bacteria infect their hosts. "To be a good scientist… You have to like doing experiments — and experiments are fun. You have to have a sheer desire to understand something."
Dr. Jaymie Matthews is an asteroseismologist, outstanding popularizer of astronomy, and mission scientist for MOST: the first Canadian space telescope. "The stars of the night sky are one of my earliest and most enduring memories of growing up on the outskirts of the small town of Chatham, Ontario. When I went to university, I was lucky enough to work on some genuine research projects and I caught the star bug."
Dr. Philip Hieter is widely recognized for his pioneering studies of the mechanism of chromosome segregation and the use of model organisms to understand human biology. He's also the director of the Michael Smith Labs. "My favorite thing about being a scientist is being part of this huge international ship of researchers that discover new things, and seeing how the intersection of these discoveries positively impact our world."
Details:

Wednesday March 12th, 2008
9:00am – 4:30pm
Michael Smith Laboratories, UBC
2185 East Mall, Vancouver, BC
maps, bus, parking, facebook
For more information, please contact:
Dr. Joanne Fox
joanne@msl.ubc.ca
604-827-3911
Schedule:
| | |
| --- | --- |
| 8:30 am | STUDENT Registration |
| 9:00AM START | WELCOME FROM DAVE, JOANNE, AND PHIL |
| 9:30 – 10:00 | JANE ROSKAMS |
| 10:00 – 10:30 | BRETT FINLAY |
| 10:30 – 11:15 | EXCEPTIONAL ESCAPADE IN SCIENCE #1 |
| 11:15 – 12:00 | EXCEPTIONAL ESCAPADE IN SCIENCE #2 |
| 12:00 – 1:00 | LUNCH (on your own) |
| 1:00 – 1:45 | EXCEPTIONAL ESCAPADE IN SCIENCE #3 |
| 1:45 – 2:30 | EXCEPTIONAL ESCAPADE IN SCIENCE #4 |
| 2:30 – 3:00 | JAYMIE MATTHEWS |
| 3:00 – 3:30 | DANIEL PAULY |
| 4:30PM END | NETWORKING GAME – Draw prizes at 4:15pm |
You can download our Escapades Poster, if you want!