On September 29th, 2008, the Michael Smith Labs are hosting a select group of BC/Canada-wide Science Fair prize winners.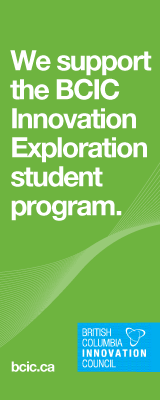 These students are attending a three day event called Innovation Exploration organized by the BC Innovation Council.
We'll have a combination of hands-on activities and talks for these 100+ kids who range in age from Grades 7-12 (most are 13yrs -16yrs old). Right now, we've got Dr. Brett Finlay and Dr. Jaymie Matthews, two of our best speakers, confirmed for the event.
Dr. Brett Finlay is one of the world's foremost experts on the molecular understanding of the ways bacteria infect their hosts. "To be a good scientist… You have to like doing experiments — and experiments are fun. You have to have a sheer desire to understand something."
Dr. Jaymie Matthews is an asteroseismologist, outstanding popularizer of astronomy, and mission scientist for MOST: the first Canadian space telescope. "The stars of the night sky are one of my earliest and most enduring memories of growing up on the outskirts of the small town of Chatham, Ontario. When I went to university, I was lucky enough to work on some genuine research projects and I caught the star bug."
Watch out, we'll be posting more details here…