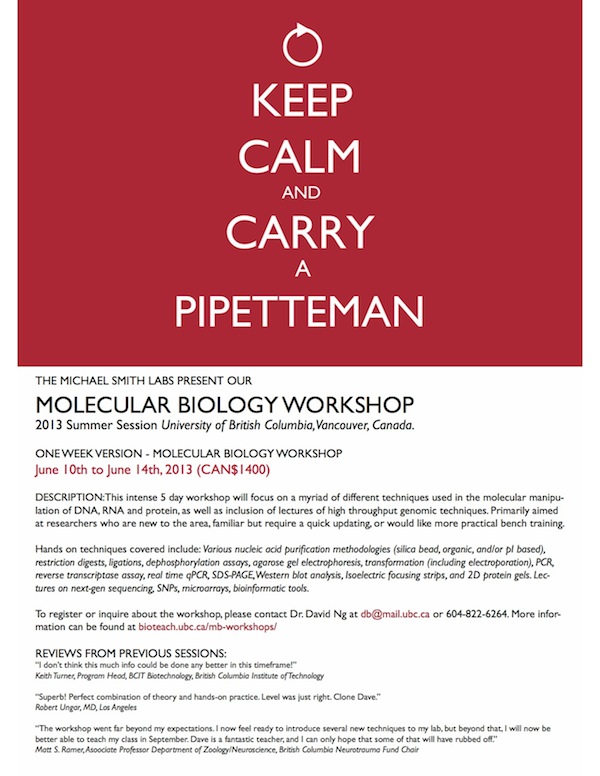 (Click here to download pdf poster)
To inquire about registration, please contact Dr. David Ng at db@interchange.ubc.ca Note that all registration fees are put towards our lab's numerous science outreach programs.
(1) ONE WEEK VERSION
Dates: June 10th to June 14th, 2013 (5 days: Monday to Friday)
Price: CAN$1400 (does not include room or board)
INSTRUCTOR: Dr. David Ng
DESCRIPTION:This intense 5 day workshop will focus on a myriad of different techniques used in the molecular manipulation of DNA, RNA and protein, as well as inclusion of lectures of high throughput genomic techniques. Primarily aimed at researchers who are new to the area, familiar but require a quick updating, or would like more practical bench training.
Hands on techniques covered include: Various nucleic acid purification methodologies (silica bead, organic, and/or pI based), restriction digests, ligations, dephosphorylation assays, agarose gel electrophoresis, transformation (including electroporation), PCR, reverse transcriptase assay, real time qPCR, SDS-PAGE,Western blot analysis, Isoelectric focusing strips, and 2D protein gels. Lectures on next-gen sequencing, SNPs, microarrays, bioinformatic tools.
To register or inquire about the workshop, please contact Dr. David Ng at db@mail.ubc.ca or 604-822-6264. More information can be found at www.bioteach.ubc.ca/mb-workshops/
REVIEWS FROM PREVIOUS SESSIONS:
"I don't think this much info could be done any better in this timeframe!"
Keith Turner, Program Head, BCIT Biotechnology, British Columbia Institute of Technology
"Superb! Perfect combination of theory and hands-on practice. Level was just right. Clone Dave."
Robert Ungar, MD, Los Angeles
"The workshop went far beyond my expectations. I now feel ready to introduce several new techniques to my lab, but beyond that, I will now be better able to teach my class in September. Dave is a fantastic teacher, and I can only hope that some of that will have rubbed off."
Matt S. Ramer, Asoociate Professor Department of Zoology/Neuroscience, British Columbia Neurotrauma Fund Chair
More reviews can be found here