Are you a creative teacher who experiments with science? Then plan to attend the 2008 Michael Smith Labs Teacher Conference. During this unique conference, you will: 1) interact with scientists, 2) participate in fun science literacy activities, 3) collaborate with other teachers, and 4) build your own interactive science activities for the classroom.
"It's Your Experiment!"
This two-day conference will be held on Friday & Saturday October 24-25th, 2008. Friday's program runs from 9am – 4:30pm and connects you with scientists in the fields of environmentalism, sustainability, biodiversity, and biochemistry. You'll also participate in hands-on science activities that you can use in the classroom. Saturday's workshop runs from 9am – 3pm and gives you the chance to work with other teachers to build lesson plans inspired by your ideas for interactive science activities. Come for one day or stay for two – the choice is yours.
TO REGISTER, CLICK HERE!

(Download the pdf of our conference poster by clicking here)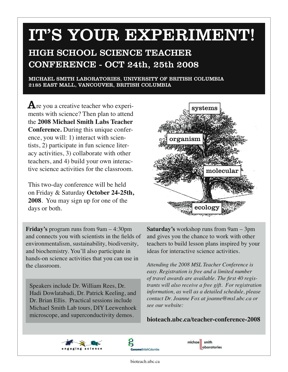 Attending the 2008 MSL Teacher Conference is easy. Registration is free and a limited number of travel awards are available. The first 40 registrants will also receive a free gift. For more information, please contact Dr. Joanne Fox at joanne@msl.ubc.ca. TO REGISTER, CLICK HERE!
DATE: OCT 24TH AND/OR 25TH, 2008
LOCATION: Michael Smith Building, 2185 East Mall, University of British Columbia. Directions can be found at: http://www.michaelsmith.ubc.ca/about/where_to_find_us/
You can download the conference schedule here.
links to: maps, bus, parking
Here's our line up of SPEAKERS for the 2008 Conference:
Dr. Hadi Dowlatabadi, Canada Research Chair, Professor of Applied Mathematics and Global Change
Prof Dowlatabadi research interests involve systems approach to public policy especially when dealing with scientifically complex issues such as interactions between energy, environment and public health; communicable and vector-borne diseases (HIV/AIDS, malaria, dengue, …); and Global change mitigation, impacts and adaptation. Hadi Dowlatabadi is viewed as something of a luminary in integrated research systems. He's been credited with almost single-handedly bringing broad-scale assessment models into popular use. Because of his work, climate and energy research can now be observed in an integrated way.
Dr. Brian Ellis, Professor, Michael Smith Labs, Faculty of Agricultural Sciences
Dr. Ellis' research interests are in the area of plant metabolism. His current projects include biochemistry and evolution of metabolic enzymes, discovery of signaling mechanisms through which plants sense and respond to environmental changes, and genetic engineering of crop and forest plants to improve their value. He is also interested in the commercial production of biological control agents for horticultural pests. In 2000/01, he served as co-chair of the Royal Society of Canada Expert Panel on "The Future of Food Biotechnology".
Dr. Patrick Keeling, Associate Professor, Botany, and Scholar of the Canadian Institute for Advanced Research
Dr. Patrick Keeling is a biologist and Director of CIFAR's Integrated Microbial Biodiversity program. Dr. Keeling's research group studies the evolution and cell biology of protists, the most diverse class of eukaryotic organisms (store their genetic material in the cell nucleus) that are mostly unicellular. Although protists compose the vast majority of eukaryotic diversity, little is known about their history or biology. Dr. Keeling's group uses molecular biology, microscopy and genome sequencing to change that.
Dr. William Rees, Professor, School of Community and Regional Planning
Prof Rees' teaching and research focus on the public policy and planning implications of global environmental trends and the necessary ecological conditions for sustainable socioeconomic development. Much of this work is in the realm of human ecology and ecological economics where Prof Rees is best known as the originator of 'ecological footprint analysis.'
Here's our line up of HANDS-ON ACTIVITIES for the 2008 Conference.
I. DIY LEEUWENHOEK MICROSCOPE
(Gillian Gile, Dr Patrick Keeling)
This activity guides a group of teachers through the creation of this historic microscope, using only cardstock, thumb tack, and melted Pasteur pipettes. Capable of up to 100x magnifications, and a great way to provide historical context to some of the biological sciences (as well as a prelude to possible optics exercises)
II. SUPERCONDUCTIVITY/MAGNETISM DEMO
(Randy Wicks, Dr. Walter Hardy)
III. TOURS OF THE MICHAEL SMITH LABORATORIES
(Dr. Joanne Fox, Dr. Dave Ng)
You can also you check out the 2007 MSL Teacher Conference program.