Our 2009 Michael Smith Labs Teacher Conference – DARWINIAN EDITION! – was held on Friday October 23rd, 2009. Attending this event is FREE, but registration was required.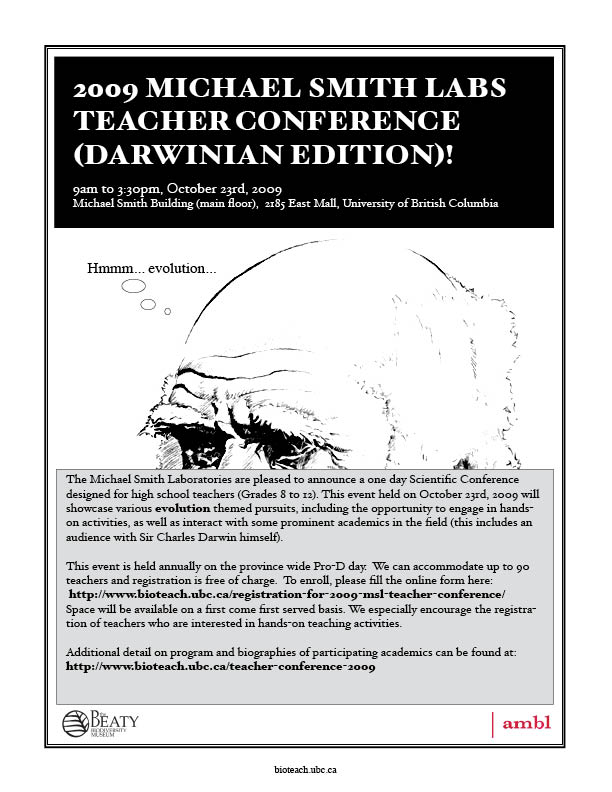 This event showcased various scientific pursuits, including the opportunity to engage in hands-on activities, participate in workshops that highlight hands-on classroom activities, as well as interact with some of the most prominent scientists in the world. I heard a rumor that this conference was so good that even Darwin came.
You can download our 2009 MSL Teacher Conference Poster here and see the full conference content below.
Speaker Biographies:
Dr. Greg Bole received his Ph.D. in Ecology and Evolution from Stony Brook University. For the past six years he has been a lab faculty and lecturer in the Biology Program at UBC and was awarded the 2007/08 Faculty of Science Killam Prize for Excellence in Teaching. Greg started acting when he was 12 years old and continues it as a hobby. He has been portraying Charles Darwin for the past three years to classes and conferences in a wide variety of locations.
A visit with Mr. Darwin from terrytalks on Vimeo.
Dr. Keith Benson is a historian. "I became interested in biology as a result of a high school internship in a marine biology laboratory. While there, I also learned about the importance of the humanistic part of science, since the director of the laboratory was the editor of a book about seashore life, written by John Steinbeck's closest friend, Ed Ricketts. These early interests are still part of my research career, thus emphasizing how important it is to become exposed to the sciences and the humanities."
Dr. Keith Benson: The Reception to Darwin and the Myth of Creation from terrytalks on Vimeo.
2009 MSL TEACHER CONFERENCE – The HANDS-ON ACTIVITIES
I. AMBL's NEW FIELD TRIP PROGRAMS
Dr. Joanne Fox is an Instructor with AMBL. She's looking forward to a fun day of science and has some really cool prizes to give out to teachers at the end of the day. Joanne recently launched a new field trip program aimed at Grade 9s that combines computers with biology. She also has a dog named Penney who is quickly becoming famous on You-Tube for her singing.
This activity introduces teachers to AMBL's newest field trip opportunity that aims to appeal to junior level students by combining computer & internet technologies with biology. In the lab, you'll carry out a DNA isolation experiment that you can carry out in your classroom. You'll also see highlights of the computer activities that students carry out in AMBL's new Bioinformatics Field Trip program (launched in Fall 2009).
II. SOCIAL MEDIA IN THE SCIENCE CLASSROOM
Dr. David Ng is Director of the Advanced Molecular Biology Laboratory, the educational arm of the Michael Smith Labs. Dave is a geneticist, science advocate, and occasional writer. Dave claims that his Dad beat up Bruce Lee once.
In this workshop, you'll learn how you can use social media tools in your classroom to help you engage students with your teaching around concepts of evolution and biodiversity. Dave will highlight a pet project of his that combines blogs, biodiversity, and pokemon. You'll go home with a set of useful social media tools and examples of how to use them in your teaching.
III. TOURS OF THE BEATY BIODIVERSITY MUSEUM
(Kim Woolcock, Leah Blaney, MSL Graduate Students & Post Doctoral Fellows)
In this activity, teachers will get a chance to tour the brand new Beaty Biodiversity Museum located next door to the Michael Smith Laboratories. Graduate students and post-doctoral fellows will share their stories about research and what it's like to be a scientist.  Teachers will participate in classroom activities related to biodiversity & evolution.


Teaching Evolution – JellyBean Activity – Supplementary Notes
Details:
Friday October 23rd, 2009
9:00am – 3:30pm
Michael Smith Laboratories, UBC
2185 East Mall, Vancouver, BC
maps, bus, parking
For more information, please contact:
Dr. Joanne Fox
joanne@msl.ubc.ca
604-827-3911
Schedule:
8:30 am
TEACHER Registration
9:00AM START
WELCOME FROM Dr. Joanne Fox & Dr. David Ng
9:30 – 10:00
VISIT FROM DARWIN (as played by Dr. Greg Bole)
10:00 – 10:30
Dr. Keith Benson – The Reception to Darwin and the Myth of Creation
10:30 – 11:30
CLASSROOM ACTIVITY/WORKSHOP
Rotation #1 – AMBL's New Field Trip Programs
11:30 – 12:30
CLASSROOM ACTIVITY/WORKSHOP
Rotation #2 – Social Media, Biodiversity & You
12:30 – 1:30
LUNCH (on your own)
1:30 – 2:30
SCIENCE ACTIVITY
Rotation #3 – Beaty Biodiversity Museum Tours
2:30 – 3:30
NETWORKING GAME – Draw prizes at 3:15pm
3:30PM END
If you're interested, you can check out last year's program here.