(For full details, please click here).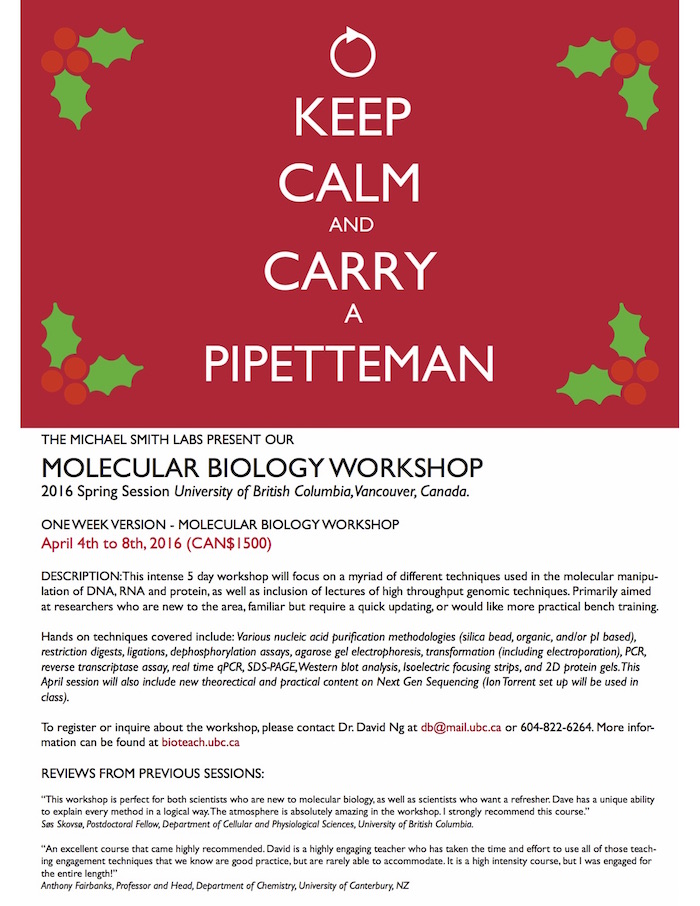 New Date for the Molecular Biology Workshop - April 4th to 8th, 2016 (5 Day Version - $1500 per client). Registration is now open. To inquire about registration, please click this button or contact Dr. David Ng at db at mail dot ubc dot ca.
Days: Monday to Friday
Dates: April 4 to 8, 2016
Level: Professional Development
Time: 9am – 5:30pm daily
Max Participants:
16
Meeting Spot:
At the AMBL lab at the Michael Smith Building (
directions
)
Cost:
$1500 (does not include room and board)
To register, please contact Dr. David Ng at db@mail.ubc.ca or 604-822-6264
(Scroll down for more details or click here for pdf poster…)
Recent Testimonials:
"Well paced, engaging, fun and informative. Great variety of techniques and procedures presented, both low tech and high tech. Lots of hands on work to allow you to get familiar with the protocols. Davis is a fantastic instructor, and I can't recommend this course enough."
Yi Yang, Research Technician, Department of Cellular and Physiological Sciences, UBC
"This workshop was very thorough and covered an incredibly large amount of topics in a very short time. The information gathered from this workshop will certainly be beneficial in both research and teaching."
Dr. Dewayne Stennett, Lecturer, Biochemistry, University of the West Indies, Jamaica
"Fabulous! There's a reason why people come from as far as Toronto (or farther) to take this course."
Steven Plotkin, Professor, Department of Physics, University of British Columbia.
"The best class I've taken so far! Entertaining 5 days of intensive learning, in a supportive, friendly, and positive atmosphere. Definitely would recommend it to a friend. Thank you, Dave!"
Andriy Sheremet, Grad Student, Biological Sciences, University of Calgary
"Excellent workshop!! Great balance between lecture and lab, and I was very impressed on the volume of content squeezed into the five days. Dave's delivery was very good, nice amount of light hearted humour mixed in. Highly recommended!"
David Dunn, Head, Chemistry Services Laboratory, Pacific Forestry Centre, NRC
"Great bootcamp format! I enjoyed the vast range of topics and the balance of lecture and practical hands-on techniques"
Robert Kowbel, Scientific Support Technician, Pacific Forestry Centre, NRC
"This workshop is perfect for both scientists who are new to molecular biology, as well as scientists who want a refresher. Dave has a unique ability to explain every method in a logical way. The atmosphere is absolutely amazing in the workshop. I strongly recommend this course."
Søs Skovsø, Postdoctoral Fellow, Department of Cellular and Physiological Sciences, University of British Columbia.
"An excellent course that came highly recommended. David is a highly engaging teacher who has taken the time and effort to use all of those teaching engagement techniques that we know are good practice, but are rarely able to accommodate. It is a high intensity course, but I was engaged for the entire length!"
Anthony Fairbanks, Professor and Head, Department of Chemistry, University of Canterbury, NZ
"Excellent workshop with a phenomenal teacher. Dave's enthusiam for science is evident and his unique teaching methods made for an intense yet enjoyable relaxed atmosphere for learning molecular biology concepts. Good balance of theory and practical hands-on exposure."
Cheryl Zurowski, Research Technician, Agriculture and Agri-Food Canada
"Amazing course, thanks for condensing so much information in so little time. Good review of general concepts and techniques and nice introduction to more advanced/modern methods. Very useful for people getting into the biotechnology area and not a biologist by training. David is really good at creating a nice and amusing atmosphere for learning. Thanks again."
Jannu Casanova, Postdoctoral Fellow, Spectroelectrochemistry Lab, University of British Columbia.
More comments from previous molecular biology workshops can be found here.
Workshop Details
DESCRIPTION: This intense 5 day workshop will focus on a myriad of different techniques used in the molecular manipulation of DNA (general cloning, transformation, silica kits, pI kits, PCR, qPCR), RNA (isolation, reverse transcription) and protein (SDS-PAGE, 2D gels), as well as lectures that will describe some high throughput technologies such as SNP analysis, and next generation sequencing. Primarily aimed at researchers who are new to the area, familiar but require a quick updating, or theoretically familiar but lacking in practical bench training. Note: That the April session will also include new practical and theoretical content around Next Gen Sequencing – we are working to include an experiment around the use of the Ion Torrent.
PHILOSOPHY: Whilst molecular techniques have evolved at a blindingly fast rate over the last few decades, the underlying biochemical principles behind the vast majority of them have actually changed little. This workshop therefore combines opportunities to perform the latest, as well as commonly used older techniques, with particular attention to the chemical nuts and bolts behind them. In all, this allows the researcher to not only gain needed practical hands-on familiarity with the techniques, but also achieve a comfortable theoretical level to allow for both (1) that all important skill of troubleshooting, and (2) the often undervalued skill of judging the utility of "tricks" that aim to speed up, or lower costs of a given methodology.