Our 2010 Michael Smith Labs Teacher Conference will be held on Friday October 22nd, 2010. Attending this event is FREE, but registration is required.  We are full! Registration for this event is now closed.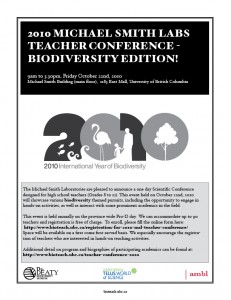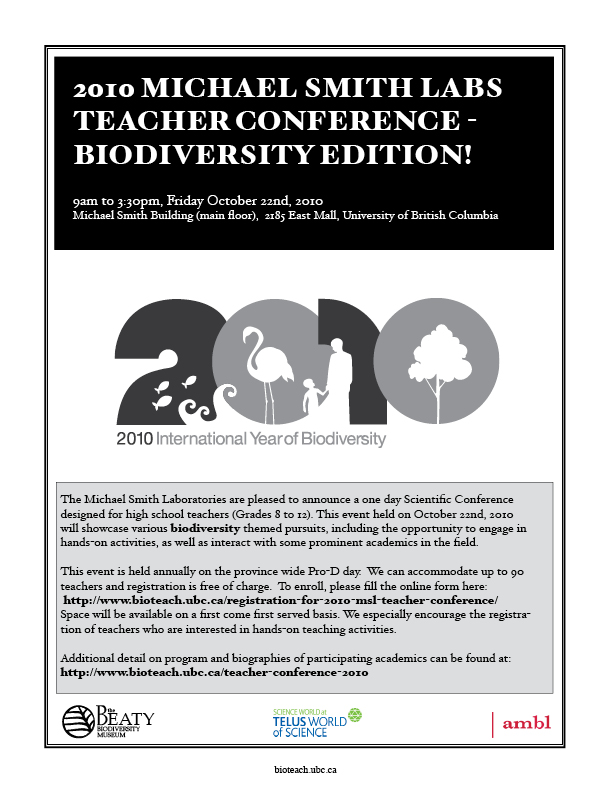 This event showcases various scientific pursuits, including the opportunity to engage in hands-on activities, participate in workshops that highlight hands-on classroom activities, as well as interact with some of the most prominent scientists in the world.
You can download our 2010 MSL Teacher Conference Poster here and see the full conference content below.
Speaker Biographies:
Dr. Sarah Otto. Sally studies population genetics and evolutionary biology. She develops and analyzes mathematical models to study how populations change over time. The aim of this work is to identify when and whether particular evolutionary transitions are possible.  Sally is the director of the Centre for Biodiversity Research located in the new Beaty Biodiversity Centre building on campus.  This building is also where you'll find the spectacular blue whale skeleton hanging in the atrium of the new Beaty Biodiversity Museum.
click on images to see slideshow
Dr. Rob DeWreede.  Rob's research has dealt with both theoretical and practical aspects of the ecology of marine macro-algae, in both temperate and tropical habitats. His work has taken him to Hawaii, the Philippines and around the world where he has studied the ecology and taxonomy of Sargassum, and helped in establishing pilot farms for Eucheuma (a red seaweed and carrageenan producer). Closer to home, here In British Columbia, his research has focused on the structure and demography of marine algal populations, and of the biomechanical properties of selected species.
click on images to see slideshow
2010 MSL TEACHER CONFERENCE – The HANDS-ON ACTIVITIES
I. THE NATURE OF SCIENCE CARD GAME
Dr. Joanne Fox is an Instructor with AMBL. She's looking forward to a fun day of science and has some really cool prizes to give out to teachers at the end of the day. Joanne has recently launched a new kind of course at UBC that explores the nature of science with first year students. She also has a dog named Penney who is quickly becoming famous on You-Tube for her singing.
Exploring the nature of science is often a difficult subject to teach effectively. This activity will introduce you to an activity that we use in first year classes to engage students in thinking about the philosophy of science. With this activity, you will participate in a card game that helps you to explore your own views on science and gets you thinking about how you might explore this subject in your own classrooms.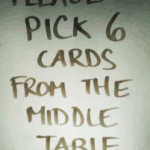 Card Exchange publication, Cobern & Loving (1998) GAMEcards, modified by Fox (2010)
II. POM POM CHALLENGE
(David Savory, Science World)
Do you think you have what it takes to meet the "Pom Pom" challenge? Pneumatics, that's what we're doing. Who knew that applied physics could be so much fun!
III. TOURS OF THE BEATY BIODIVERSITY MUSEUM
(Bep Schipeers)
In this activity, teachers will get a chance to tour the brand new Beaty Biodiversity Museum located next door to the Michael Smith Laboratories. Graduate students and post-doctoral fellows will share their stories about research and what it's like to be a scientist. Teachers will participate in classroom activities related to biodiversity & evolution.
Details:
Friday October 22nd, 2010
9:00am – 3:30pm
Michael Smith Laboratories, UBC
2185 East Mall, Vancouver, BC
maps, bus, parking
For more information, please contact:
Dr. Joanne Fox
joanne@msl.ubc.ca
604-827-3911
Schedule:
8:30 am
TEACHER Registration
9:00AM START
WELCOME FROM Dr. Joanne Fox
9:30 – 10:00
Dr. Rob DeWreede
10:00 – 10:30
Dr. Sally Otto
10:30 – 11:30
CLASSROOM ACTIVITY/WORKSHOP
Rotation #1 – Nature of Science Card Game
11:30 – 12:30
CLASSROOM ACTIVITY/WORKSHOP
Rotation #2 – POM POM Challenge
12:30 – 1:30
LUNCH (on your own)
1:30 – 2:30
SCIENCE ACTIVITY
Rotation #3 – Beaty Biodiversity Museum Tours
2:30 – 3:30
NETWORKING GAME – Draw prizes at 3:15pm
3:30PM END
If you're interested, you can check out last year's program here.